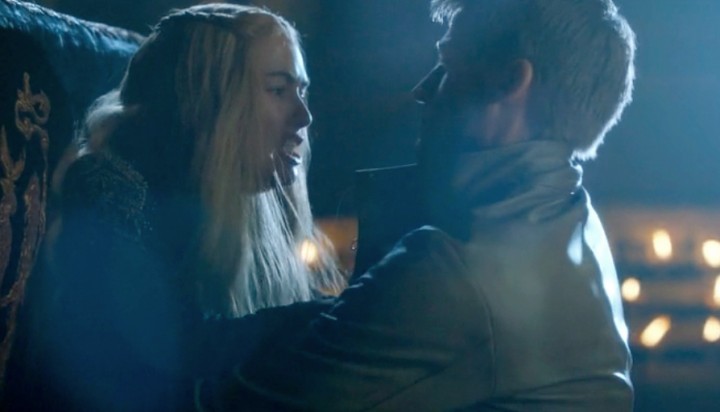 HBO pushed audiences to new limits once again as season four of our favorite fantasy series came to an end.
GOTS4 was designed to shock in more ways than one, taking the base storyline of the original novels and fleshing them out into scenes more controversial than we could ever have dreamed of. Some fans loved the unapologetic approach utilized in this season, some raised hell on the internet in disgust and disappointment and I seem to find myself with the people who loved this last season, particularly the developments that took place in Kings Landing.
In particular, one scene that caused debate amongst audiences was the infamous rape scene between Cersei and her brother, Jaime. For those who didn't know, the pair's relationship dates back to season one. In King's Landing incest between twins is seemingly acceptable, even more so to conceive children, in this case the vile Joffrey and the meek Tommen. Cersei described her relationship with her brother as an "unbreakable bond" in season one, which has been the cornerstone of their sexual deviance ever since, climaxing in this sickening season four scene.
Of course, while many audiences criticized the show's creators for making the scene all the more violent than the original in the book, perhaps most shocking was Joffrey's role in the scene. The young king had been the result of Cersei and Jaime's incestuous relationship and upset more than a few characters throughout the series, resulting in his death at the hands of a poisoned pigeon pie. While Jaime forced himself upon his twin sister, Joffrey's lifeless corpse lay in the background, churning the stomachs of more than a few viewers.
Actress Lena Headey defended the scene in an interview with The Mary Sue, saying: "I stand by it absolutely and I think that it's an interesting turning point for Jaime's character."
But it's not actually shocking or a turning point. Keep in mind that although Jaime has done a lot to alter his perception to those who don't know him well there's also the fact that Jaime is the guy who was sleeping with the Kings wife in between shoving kids outta steep windows. HE PARALYZED YOUNG BRAN STARK. The Starks have been completely dismantled in the show but the very first blow was struck by Jaime Lannister with absolutely no remorse.
But season four caused shocks for more than just fans who were joyous in seeing the departure of cruel king Joffrey. In particular, season four was pivotal in showcasing the strength of GOT's female characters, and nothing upset us more than the untimely death of Ygritte. As the only woman to melt Jon Snow's cold heart, she will certainly have left a legacy – it's just a shame that she had to die in such a feeble way, at the hands of a scared child.
Violent deaths were in abundance in series four though, as ever, with the Red Viper taking the title for the most gut-wrenching exit. Oberyn Martell met his maker when he chose to do battle with The Mountain, having had his eyes gouged out and his skull crushed. It did not make for pleasant viewing, but then, with a season as shocking as this, nothing was going to surprise viewers by this point.
While the series gave viewers many touching moments too, including the bond between Arya and Brienne, perhaps most delightful to watch was Sam finally becoming a man. Ser Piggy finally plucked up the courage to kiss Gilley, showing his character development since season one.
Let's just hope he's man enough to take on the White Walkers, who, after seasons of hiding away, finally made a shocking appearance this season…